Visit our donkey farm!

Soaps, creams and other cosmetics from natural ingredients

Welcome to the website of our family-run donkey farm

What is donkey milk?

About us
Donkeys are our passion!
Welcome to the website of our family-run donkey farm, Les ânes en culotte. We are located in Sainte-Anne-de-la-Rochelle, in the Eastern Townships. On our family farm, we have the joy of tending to the 18 donkeys that make up our herd.
Our first couple arrived in 2011, and we welcomed our first baby donkey in October 2012.
A few months later, we became the proud owners of a few boxes of high-quality artisanal soap crafted with passion and enriched with the milk of our donkeys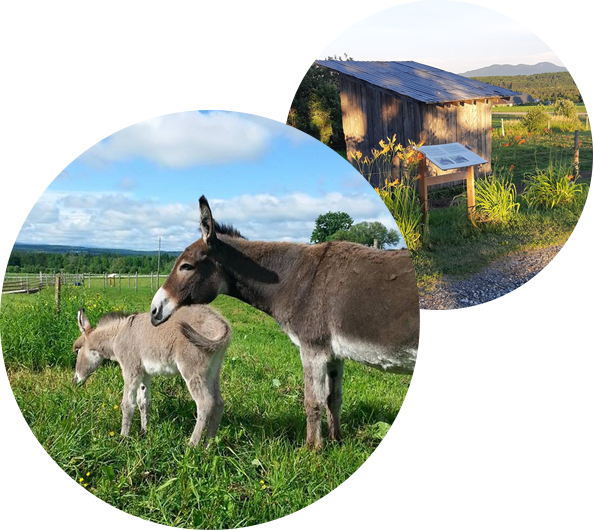 We chose donkeys for their softness, their intelligence and the many
properties
of their milk, which have been known for thousands of years. Thanks to these donkeys, we are able to farm the land of our ancestors and collect a rare and precious product, which is destined to be processed into natural cosmetics by proud regional crafters.
Our company's vocation is to make this sweet and docile animal better known and to raise donkeys with the utmost respect for their needs. Our goals are to breed balanced and well-raised donkeys and to collect quality milk, in small quantities, so that our foals are never deprived of the fundamental nourishment they need.